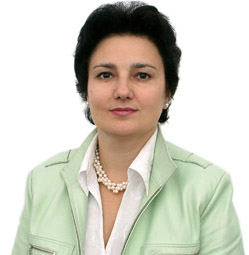 FILIPPOVA IRINA A.
Industrial Design and Trademark Attorney
Mrs. Filippova deals with registration of national and international trademarks, Industrial design, trademark licensing and litigation.
Mrs. Filippova graduated from Bauman Moscow State Technical University with specialization in Engineering in 1988.
Mrs. Filippova was certified as patent attorney in 1999. In 2000 she finished post-graduate courses in The Open University in field of management and marketing. In 2001 she also was awarded from Russian Presidential Academy of National Economy and Public Administration as marketing specialist.
Since 2007 Mrs. Filippova is a founder of Patent Attorney Firm "Vash Znak".
In 2011/12 Mrs. Filippova was a lecturer at British Higher School of Art & Design (Moscow, Russian Federation) on Intelectual Property module of Design-Management CDP (Continuing Professional Development) course.
Expertise
Registration of international trademarks
Trademark licensing and litigation
Registration of Industrial design
Membership
Marketing Guild (Russian Federation) (2007)
Chamber of Patent Attorneys (Russian Federation) (2010)
Qualification
M.S. in Engineering, Bauman Moscow State Technical University (1988)
Russian Trademark Attorney, No. 662 (1999)
P.G. in Management and Marketing, The Open University (2000)
P.G. in Marketing, Russian Presidential Academy of National Economy and Public Administration (2001)
Russian Industrial Design Attorney, No. 662 (2005)
Languages
Russian
English
E-mail: filippova@vashznak.ru